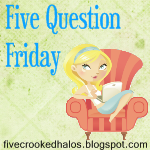 1. Do you know what your REAL hair color is?

Light Brown
2.
Do you plan ahead for summer, or fly by the seat of your pants?

I fly by the seat of my pants no real big plans
3. What is your favorite meal to cook?

Enchiladas yum!!
4. Do you get offended by not receiving thank yous?

No, mainly because I am the one who has trouble remembering to send thank yous out!!
5. How did you meet your best friend?
We went to church together we have been friends since we were in the nursery.