A Book Review - Beneath the Night Tree
By: Nicole Baart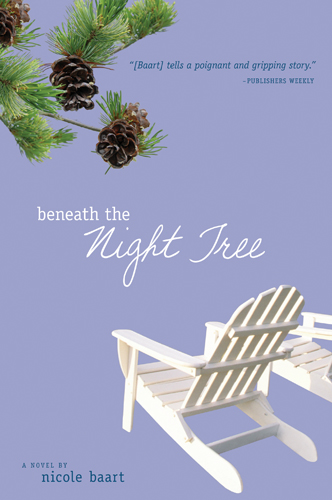 A brief description:
Do I have a child? Julia DeSmit knew she would face the question eventually, but she didn't expect it now. At twenty-four, she is finally content with the way her life has unfolded. A single mother to her son and young brother, she works at the local grocery store while chipping away at a two-year degree. All her free time is spent with her unorthodox family—her boys, her grandmother, and her boyfriend of five years. It's not perfect, but Julia is happier than ever.
So when she receives the cryptic e-mail from her son's father, Julia's world is turned upside down. She hasn't heard from Parker since he left her in a college parking lot nearly six years ago. But one look at her son—the spitting image of his father—is enough to convince her that, for better or worse, Parker is a part of their story. Faced with this new reality and an unexpected tragedy, Julia begins a tightrope walk between what was and what is, what she hopes for and what will be.
My Review:
I admit this was a hard one for me to initially get interested in. I put off getting started reading it, I just was not feeling it. Even after starting it the first few chapters were a slow read for me. About halfway through I realized I was finally becoming drawn into the story and understanding the main character Julia a bit better. by the last pages I was hooked and wanted to know what her fate would be. Over all I would give this book 3 out of 5 stars, even though I was not easily captivated in the end I was very drawn to the book.
I liked how it ended I will admit I wanted to Julia to do what she did in the end I guess that does not make much sense, but I can not tell you what she did our it would spoil the ending!!
Disclaimer: I did recieve a free copy of this book from Tyndale Media for review purposes. The company did not influence my review in any way the opinions in this post are my opinions.