Book Reveiw:
The Dopple Ganger Chronicles - The First Escape
By: G. P. Taylor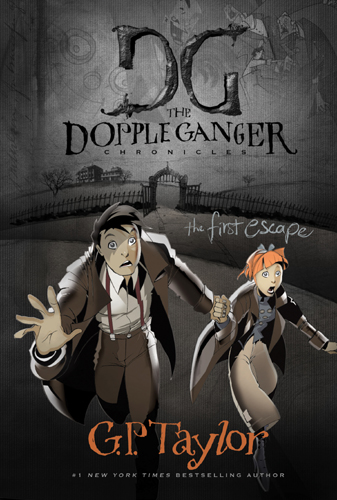 An Overview:
From the best-selling author of Shadowmancer comes an enthralling new series of illustra-novellas. The First Escape is the first book in the Dopple Ganger Chronicles, a six-book series following three children—Sadie and Saskia Dopple and Erik Morrissey Ganger. Sadie and Saskia are mischievous identical twins living at an orphanage, where Erik is their only friend. They are separated when Saskia is adopted by Muzz Elliott, a wealthy woman searching for her long-lost family treasure. While Saskia stumbles into the center of a crime only she can stop, Sadie and Erik embark on a quest to find her. This book is in an exciting new format called an "illustra-novella," in which the story is told alternately in graphic novel format and plain text with occasional illustrations.
My opinions:
This book is written in a novel/comic format, this made it a quick read. I was not extremely fond of this writing style. I struggled to understand the details of what was happening. I believe that things were intentional left mysterious to leave room for interpretation. I did not want to interpret, I wanted it told directly. The drawings have avery unique almost dark side to them, I can not sure how to explain them.
There were some great parrels from this story and I think that it could lead to some good conversations with young teens and parents. My sister also reviewed this blog and she and my niece read it and discussed the many aspects of it you can see that review
here.
Over all this was not my favorite book but I realize that part of my dislike is in my own personal writing style preferences. Through the whole book I was just so so I could take it or leave it, but some how at the end I realized that the last little adventure actually held my attention and I wanted all the sudden to see the sisters safe and happy!
Bottom Line:
I would give this book 3 out of 5 stars. I could see it being a real crowd pleaser with the younger generation, but it still is not my cup of tea.
Disclaimer: Tyndale House sent this book to me for the purpose of this review. I have not been compensated for this review in any other way and all opinions in this review are entirely mine.